Paul specialises in helping people improve spoken communication within the workplace.

He runs one-to-one and group sessions on presentation techniques, networking techniques, pitching skills, negotiations, performance management and challenging conversations.

Working alone, and with other freelance consultants, clients have included major law firms in the UK and across Europe, media and advertising agencies, multinational corporations, and personal clients raging from CEO's to receptionists.

As a director of corporate events, Paul has been the creative director for over 10 years for McDonald's UK, staging conferences for up to 2000 people, and ensuring the executive team feel comfortable and deliver on stage in the best possible manner. He has staged over 300 corproate evrnts ranging from a musical for Kelloggs to a murder on a train for Hewlett Packard.

He has directed medical dramas for large medical clients such as UCB Pharma, Cancer Uk, and various drug companies, using drama in a conference situation to highlight relevant issues for doctor and patient.

He is an extremely experienced role player and facilitator having worked in the field for over 20 years with companies such as McLaren, McAlpine, BT, Vodafone, KPMG, Philip Morris, Clifford Chance, as well as many major health trusts and public bodies such as the Home Office.

His book "So You Want to Be a Corporate Actor?" was published in 2013 and continues to be the 'go to' source material for role players and trainers.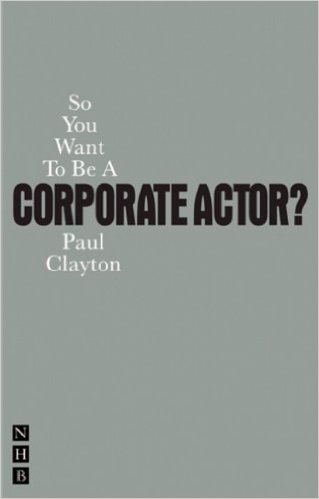 "Your results are amazing and our clients absolutely love working with you, the feedback is always fantastic.

I really appreciate how easy it is to work with you on all projects"

Susie Evans - Producer at fourimpact

"Training with Paul Clayton was extraordinary! He provided us with a different view on presentations."

Ines Llerena RMS Paris

"I thought the session was excellent..... Paul was able to adapt the areas we focused on to suit us, and was able to address our individual concerns and queries."

Delegate - Central London Advertising Agency

"Working with Paul is fantastic, he gives great coaching and technical support, is honest and constructive with his feedback and inspires confidence and self-belief. He is a true professional and the best in his field."

Claire Hall VP People McDonalds Uk



Paul has worked closely with our company since 2009 to help develop and improve our communication and presentation skills.
His perceptive coaching, adaptive style, and effective techniques have helped our agency and our staff develop greater
confidence and given proven success in our internal and external communications, new business pitches and client presentations.

We value Paul enormously and would happily recommend and endorse his coaching to anyone (except our competitors!)


Adam Kenwright
CEO AKA Group


I've been working with Paul for the past 8 years and he has really improved the various techniques I use to speak publicly. He has also built my confidence through his coaching and support - he has a great way of taking you on a journey and pushing you further than you thought you could. He builds both your competence and confidence and makes it fun along the way. He is a real professional in his field and adapts his style to suit the individual. He has also worked with all of my Executive team and has improved us all - whether speaking in front of 100 or 2,000 people, Paul will ensure you perform to the best of your ability.

Paul also listens to how you are feeling and where you want to improve. With his own background of performance, he knows how it feels to be on stage in front of an audience and so can relate to the various range of emotions you go through before you get up there yourself.

Paul is also a really good guy - great fun to work with and someone I can call a true friend. If you or your team want to get better at presenting, you will see instant results from time with Paul and have fun along the way.

Paul Pomroy

CEO Mcdonalds UK